Hello all! Apologies for being quiet on the blog front lately, but the beginning of the semester has kept me with very little free time for blogging. (Pro tip:
Follow me on Twitter
, I'm much more active there in busy times than on my blog!) But now that I have a quieter night to myself, I get to sit down and attempt to capture your interest with the new classes I'm taking.
First up, we have Successful School Gardens. If you saw my last post, you'll know that I'm traveling to England over spring break in March to learn about and teach in schools there with school gardens. This class runs for the whole semester, so we'll be preparing for our trip, as well as writing the lesson plans for teaching a class to students in multiple schools there. After we come back from London, we'll be paired up with schools here in the Twin Cities and will be teaching lessons about apples and microgreens to K-12 students. All the schools we will be paired with have existing school garden programs so we can learn how they work as well. I don't have too much to report on this since I've only been to the class once. It only meets once per week and the first class got cancelled due to extreme cold. (Don't even get me started on how cold it's been in Minnesota this winter!) This class also has a blog so I'll post links to those updates when they start rolling in.
Next up is Organic Farm Management. This is a class that really ties together a lot of things I find interesting. The first thing is, obviously, food. We're learning how to best grow good food in the climate we live in. The second thing, is organic farming. This class works specifically with the "Cornercopia" Student Organic Farm on campus to help them start a lot of the produce that they raise and sell over the course of the summer. Expect a lot of pictures from this class once we start growing all of those.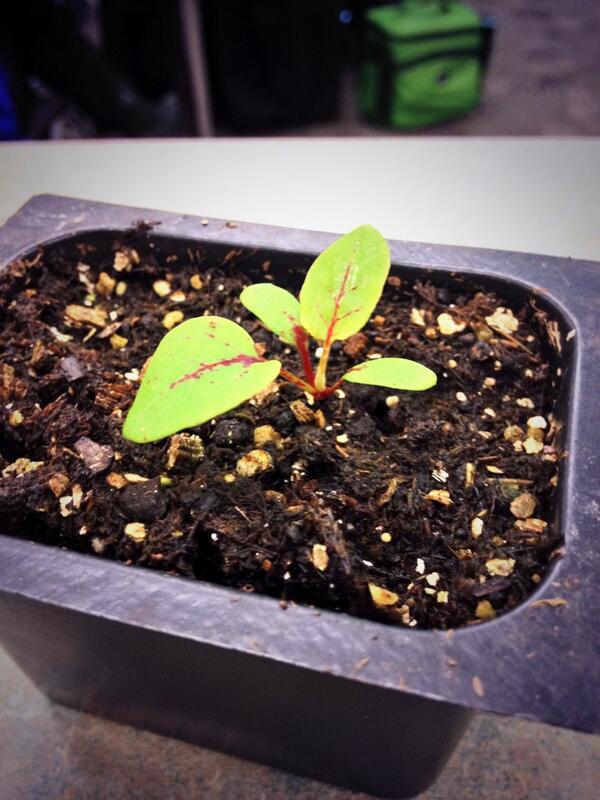 One of the seedlings from our seedling identification lab. Hard to tell it's an eggplant when it's that small!
Plant Physiology is the most lab intensive courses out of everything I'm taking. The course is actually classified as a "Writing Intensive" course (we need a certain number of these in order to graduate) so a lot of emphasis is put on scientific writing for lab reports. Most of our lab work is focused on environmental effects on crops such as amount of light, nutrient deficiencies, heat/cold, and how all of this affects the plant's growth. We've got a lab going right now testing germination and growth of plants with 16 hours of sun, 8 hours of sun and zero hours of sun. Pretty easy to tell what's going to happen, but the results are interesting to watch nonetheless.
Last but not least is "Sustainable People, Sustainable Planet". This is the only non-Horticulture class that I'm taking this semester and I LOVE it. We talk and read about sustainability as it relates to all different parts of life. Social justice, economy, environment, food systems, you name it. We've only been in class for around three weeks and I've already learned so much. My next post is probably going to be a bunch of stuff I've learned so far that I think everyone should be aware of. Our readings are incredibly interesting as well, so I'll definitely start posting links to those on here and on my Twitter account for you all to check out. Most are very accessible and thought-provoking reads. One big thing we started out looking at is planetary boundaries. I've included a diagram below. It's pretty self-explanatory, but basically the outer ring is the ceiling of where we should keep ourselves to stay within the Earth's resources and the inner ring is the floor that we should be above in terms of poverty, individual rights, education, etc.
Then this is where we are in terms of the inner circle. This means we're below where we should be when it comes to these things.
And then this is where we are in terms of the outer circle (the planetary boundaries) for things related to the environment and our impact on it.
Quite the difference, huh? This class has definitely put a lot of things in perspective for me. There's a lot I still have to learn about sustainability, but I really hope after this class I know how to communicate these ideas to people better so we can all work together to help change the way we interact with the natural world.
And that's all folks! You'll likely see more class related blog posts coming soon, and in the meantime don't forget to
follow me on Twitter
and
Pinterest
to keep up with my day to day activities and see what interesting things I've found around the web!