To celebrate three years of being in a relationship, my boyfriend, Michael, and I took a day trip up to the lovely city of Duluth, situated on the shore of Lake Superior. It was my first time visiting the city, but my boyfriend had a small amount of prior knowledge, having visited several times with his family. Despite this, he still hadn't been there for several years so I had to do a little bit of research into where we should go and what we should do. I knew right away I wanted to go up to Hawk Ridge to try to see some of the spectacular views of the raptor migration they get there, and Michael wanted to visit Gooseberry Falls and Canal Park, places he and his family had been several times before.
With these ideas in mind, we set off on the two and a half hour drive to Duluth yesterday morning, excited that the day promised more beautiful weather than we could've wished for. Sunny and mid-60s, the day was starting off good before we even got there.
Upon our arrival around lunchtime, Michael suggested we get sandwiches from a place he'd been during past visits, Sir Benedict's, so we enjoyed some hearty French Dip sandwiches before heading up the hill to Hawk Ridge.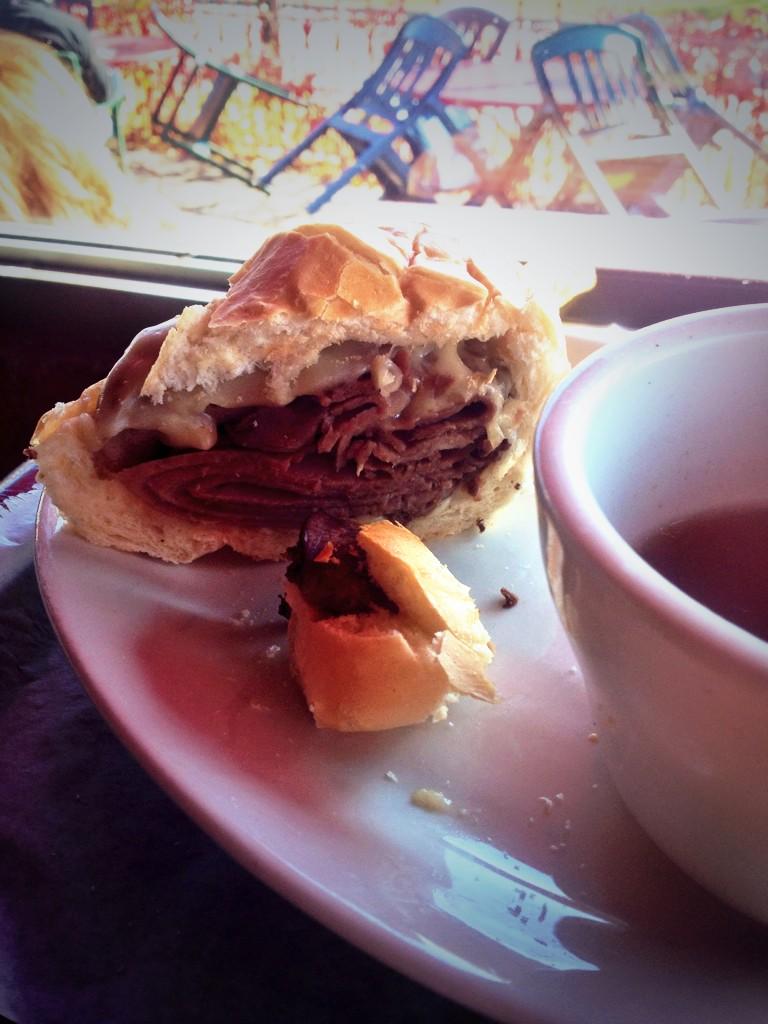 We hit the dirt road on the way up the ridge and knew we'd found the right spot when we saw the cars lined up along the road. Unintentionally, we got there during the times recommended on the signs posted at the ridge for the best viewing times. This time of year is also best for seeing larger raptors migrating, as the smaller species had mostly made their way through the area earlier in the fall. I had brought along my own binoculars and Michael picked up a pair from the Hawk Ridge station where they had loaner pairs for those who needed them. We already had seen several Sharp-shinned Hawks fly over us as we got there, a smaller species that was having a harder time battling that day's winds out of the south. Michael is not as into birding as I am, so I was hoping we'd see some larger bald eagles and red-tailed hawks to catch his interest. I knew that we were in range for Golden Eagle migration, a species I had never seen in the wild before, but wasn't expecting to see them at all that day. They weren't as common as the other species, so I didn't want to get my hopes up.
But boy was I wrong. About 30 minutes after we got there, one of the birders taking the official counts from the platform up on the ridge said "Looks like we've got some Goldens coming in from the lake." My heart started racing as I eagerly scanned the area they indicated. I could see several specks waaaaay far out that I could tell were soaring birds, but not much more than that. Were these the Golden Eagles? I couldn't tell for sure yet. But luckily for me, Michael and the other 20 or so birders up on the ridge, one of the adults was going to give us a spectacular flyby not long later. In he (or she? I never actually heard if they knew the sex or not) came, soaring around and around and finally flying the length of the ridge right along where all of the birders stood in awe. It was beautiful. Huge, with a golden head, almost like a mane of feathers. The second that came in decent range of us still stayed off in the distance over the treeline. This one was a juvenile, with prominent white spots under his wings and a white band on his tail. We even got to see this one in comparison to a juvenile bald eagle that came into the same viewing range.
Not a great photo, but here's one of the Golden Eagles!
Besides the Golden Eagles, we saw lots of Sharp-Shinned Hawks, several Bald Eagles, several Red-Tailed Hawks and one Northern Harrier. And this is just in the hour-fourty five minutes we spent there! Michael was thoroughly impressed with the Golden Eagles and the other raptors we saw (he kept bringing up how cool it was throughout the rest of the day), and I was happy he'd had such a good time birding. It was also really great that the nature guides up at Hawk Ridge gave a running commentary on what was flying over and information on the species we were seeing. It was both helpful and educational.
After Hawk Ridge, we drove down to the highway out of Duluth, still basking in the glow of our Golden Eagle sightings, and headed the 45 minutes to Gooseberry State Park. This was another place Michael had been before with his family, so he knew generally where to go once we got there. We spent an hour climbing and walking around on the rocks near the falls and taking pictures. The leaves were almost completely off the trees except for a few smaller maples that were still clinging to their fall colors. But the trees in this area were primarily evergreens and birch that had shed their leaves already. It made for a really neat scene with the birches starkly standing out against the other colors of a fall landscape.
Heading back to Duluth, we decided to head over to Canal Park to look at the lift bridge, walk out along the wall of the channel the large boats go through to get to the bay and just generally poke around. The lighthouses by the canal stuck out enough into the bay to get some really nice views of downtown Duluth. The bridge itself is also pretty neat, with a center section that doesn't split apart and lift like other lift bridges, but complete lifts up to the top as one section. In my pictures it's down because there were no boats going through at the time.
We had some time to kill before dinner, so we headed to a brewery situated right on the boardwalk area. Canal Park Brewing Co. had a large selection of craft brews and, thankfully, another couple who had been there before and arrived around the same time as us, offered their recommendations on which ones to try. Nuthatchet Brown turned out to be our favorite, and the others I sampled were good as well. I'm not a huge beer person and I still liked everything I tried. The day was so mild that we could still sit outside on their patio area comfortably at 5pm in the evening. There was only a slight, southerly breeze so the temperature was incredibly pleasant. Turned out they also serve food as well as beer, although we were planning on dining somewhere else that evening, but I'd like to try their food another time. It's definitely a place we'll be visiting again on return trips to Duluth.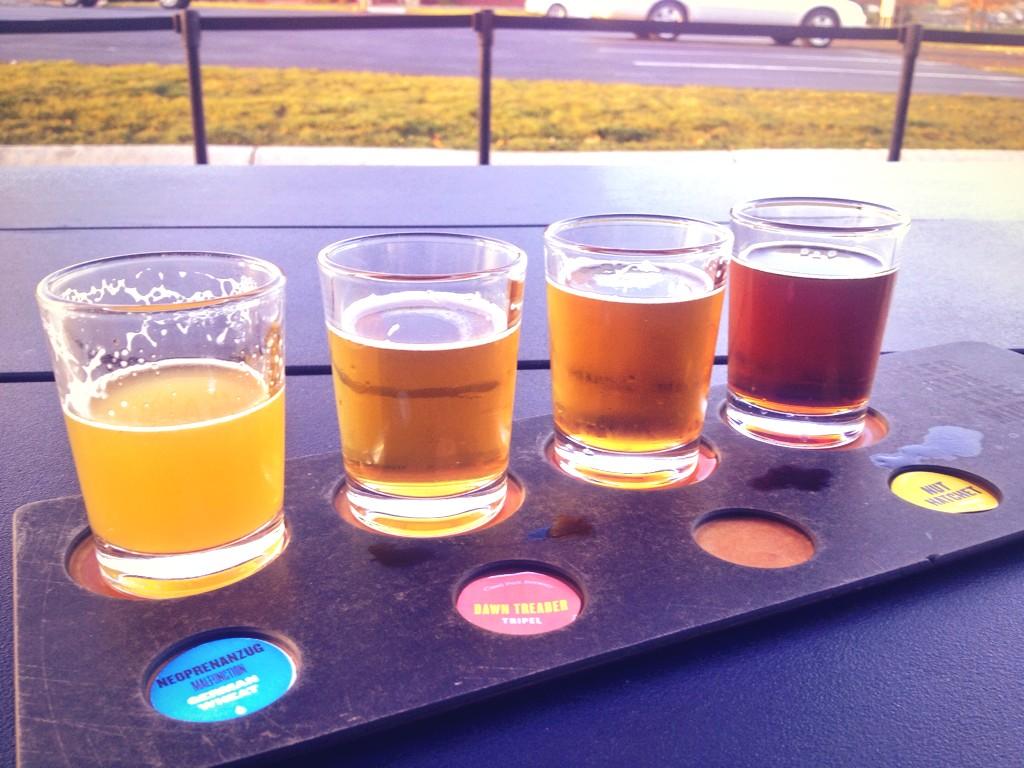 We left to walk up the boardwalk to the restaurant we'd chosen for dinner just as the sun was setting, which turned the sky pink and gold.
Just up the boardwalk a ways was Fitger's the restaurant that we ate dinner at. Fitger's is a huge complex of stores, a hotel and restaurants, but we ate at their main restaurant. They also brew beer here so Michael tried one of their brews as well. The food was delicious (I had the Friday fish & chips special while Michael had one of their burgers) and I probably over-ate, but we left to walk back down the boardwalk to the car content. We even got to see the lit-up lift bridge in action as one of the large ore boats went through the canal. It's amazing how someone could pilot a boat that huge through such a small channel. Once it was through it honked it's massive horn, which echoed off the city. Since Duluth is basically situated on the side of a huge hill, it was a pretty impressive echo.
It's cliche, but the day was pretty much perfect. I can't think of a single thing that could have been better. We both had so much fun, the weather was amazing, all the food we ate was great and all the outdoor experiences we had were awesome. I'm definitely excited for the next opportunity I have to go back.